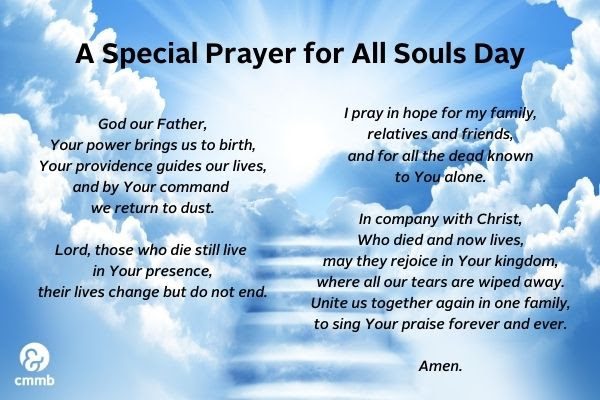 Considering the pandemic and the excess number of lives lost this year, I thought this was a good prayer to remember the Feast of All Souls.  We need to especially remember to pray for the souls in purgatory.
Also, an apostolic letter came out in September regarding end of life care that I thought you all might want to read.  It's called "Samaritanus bonus."  It has one of the best lines regarding physician assisted suicide (typos included):  "to end the life of a sick person who requests euthanasia is by no means to acknowledge and respect their autonomy, but on the contrary to disavow the value of both their freedom, now under the sway of suffering and illness, andof their life by excluding any further possibility of human relationship, of sensing the meaning of their existence, or of growth in the theologal life."
Here is the link: https://press.vatican.va/content/salastampa/en/bollettino/pubblico/2020/09/22/200922a.html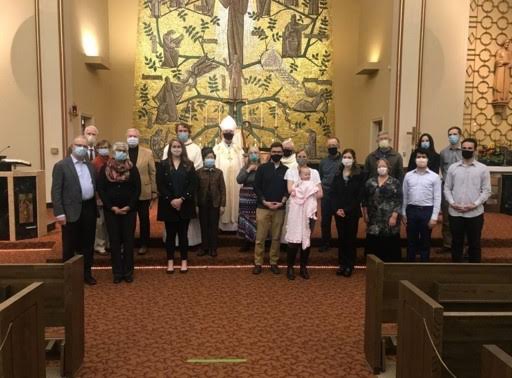 White Mass
We had a good turnout for the White Mass.  We missed those of you who couldn't make it.  Bishop Schuerman obviously took the time to learn about the CMA and its mission.
Thanks again to Fr. Schumaker for allowing us to use his church, my husband Deacon Gary for assisting, Goetz and organist.  And everyone else who helped.
Hopefully, next year we can go back to our full celebration with speakers, etc.  And no social distancing!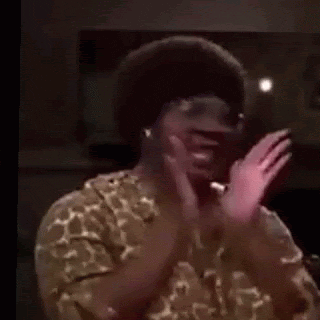 New Members
We're growing!
Three new members came to the White Mass!  Please welcome Drs. Jazmin Parcon and husband and wife team, Marianne Junck and John Pokorny.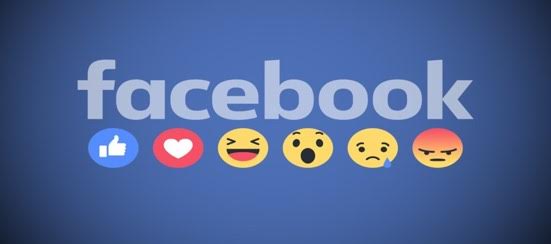 We're On Facebook!
As you can see from the above picture, we have a Facebook page thanks to the work of Jerry Nora, Stephanie Armstrong, and Mateo Nicholson.
Like us!
If you want to join: https://www.facebook.com/cmamilwaukee/
Also, there has been a request to form a social group so we can "vent" safely.  But we would need someone to moderate it on a daily basis.  If anyone is interested in moderating, please contact me.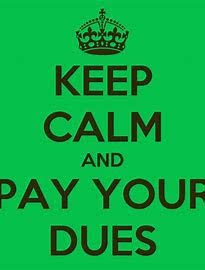 Dues for 2021
I know, I know.  The two things we can't avoid are death and paying our yearly dues.  Just wanted to start nagging, I mean reminding, you to pay.  Dues are $50 for practicing physicians, $25 for retired physicians, $25 for medical residents, $10 for nurses and other allied healthcare workers.  Religious (priests, deacons, nuns, monks, seminarians) are free as are medical students.
Please make your checks out to Milwaukee Guild CMA and send them to our treasurer Dr. Todd Miller at:
4230 Oakmont Trail
Waukesha WI 53188
For those of you who have continuing education funds, remember they can be used to pay dues.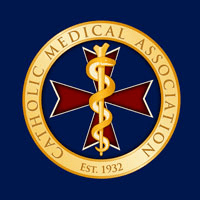 National CMA
For those who are national CMA members, now is the time to pay your dues.
For those of you who are not, they are still having their promotion for new members with 25% off your first year through the end of January.  Please see the following link.  Make sure when you sign up that you tell them your referral contact was the Milwaukee Guild.
https://app.etapestry.com/onlineforms/CatholicMedicalAssociation/NewMmbr25-1.html
Below is a short video of our national accomplishments for the year.
https://www.youtube.com/watch?v=OtK8dE1b70k&feature=youtu.be
Please help to support the work of the CMA!
Student Outreach
The national CMA wants to reach out to students, medical and premed.  Please watch the following YouTube video to learn more:
https://www.youtube.com/watch?v=0N8aLVd98S0
Virtual Journal Club and Meditation on Suffering
I am still waiting for a response to a survey to the other guilds in the state.  I hope to get back to you in a week or so.
But the Finger Lakes Guild is having a virtual journal club meeting November 18th at 7PM our time (8 PM EST) featuring our very own Dr. James Linn and his recent article on "Testing for Down Syndrome in Catholic Healthcare: Complicity in Eugenic Abortion."  Sign up below:
https://www.fingerlakescma.org/virtual-journal-club-sign-up/
Wanna Be a Mentor?
The national CMA has set up a mentoring program through an app called Calify
Once you download the app, do the following:
Open the app
Click on the conversation icon in the upper left hand corner
Click on the CMA Mentoring link
You are now in the CMA Mentoring platform
Click on the ellipsis in the upper right hand corner to complete your profile
Join the community by clicking on the Community button, or view members by clicking on the Members button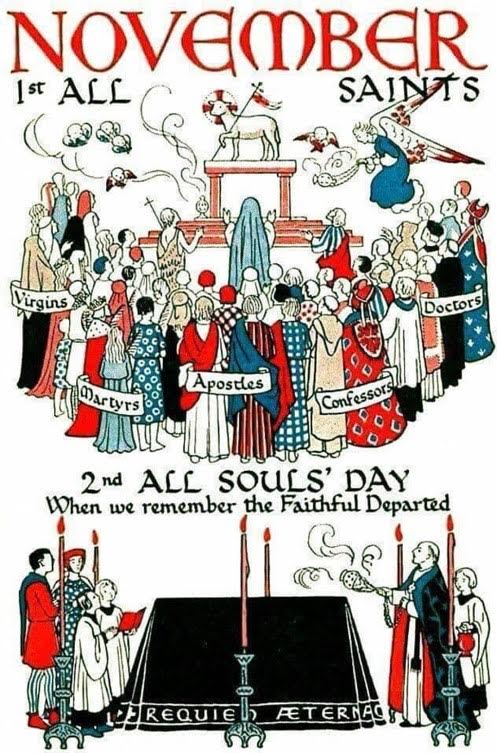 A Final Word
In September, my daughter asked me, "Mom, is it November yet?"  We have all been battered by this election cycle.  Remember that no matter who wins, we who have voted have done all we can do.  Now we can only move forward.
This month begins with remembering those who have gone before.  Some of them did not see during their lifetime the fruits of their labor.  Jesus said, "Some plant the seed and others reap the harvest" (John 4:37).  And in Galatians 6:8, we are reminded that the harvest depends on what seeds that we plant.  The seeds we plant now among our friends, family, and colleagues will bear fruit long after we are gone.  We must keep our eyes on the long game.
Do not think of the other side as evil.  Their ideas may be wrong, they may do what is wrong, and we must fight what is wrong, but God only judges the heart.
While we begin this month joyously remembering those who have witnessed before us, the month ends with the penitential time of Advent, where we remember the Word made Flesh to live among us and show us the way.  That God our Father loved us so much that he spared nothing, not even his son.