Mass at 6:00 pm, followed by a presentation by Dr. Sister Edith Mary Hart, RSM, DO: End of Life: Caring for the Human Person While Preparing the Soul
Download the PDF flyer to print: Here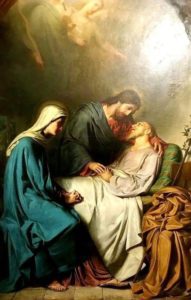 As faithful Catholics, we know that death will come to each of us and to those we love sooner or later.  In a world that often sees little meaning in suffering and death – as something to "get through" – we are often conflicted about questions and situations that occur at the end of life. The focus seems mainly on end-of-life documents, ensuring wishes are communicated about care to receive. Though important, how well does this help us face suffering and death as Christians?
Certainly, we want to relieve pain and discomfort to the best of our ability and cure or remedy illness that is in our power to do so. Death, however, awaits us all, and naturally some suffering and diminishment over time.  How can we help ourselves and those we care for prepare for death and what duties should be considered in preparation? Can we realize a more profound understanding of the meaning of suffering? What specific temptations come to the one facing death and what virtues combat those temptations?
Dr.Sister Edith Mary will discuss all these eternal questions and offer practical advice for the end that awaits us all.
---
Sister Edith Mary Hart, RSM, DO, FAAFP
Family Medicine/Geriatric Medicine
Dr./Sister Edith Mary Hart, RSM, DO is a Religious Sister of Mercy in family medicine at Immaculate Heart of Mary Family Health Care in Chandler, AZ. She is also the Co-Ordinator for Clergy health and wellbeing for the Diocese of Phoenix.
Sister has served as a physician in a number of different venues including Geriatrics, Emergency Medicine and as the medical director for a Long-Term Care facility and hospice services in rural Minnesota.